Budimex's mission is to execute construction investments – including development projects – in a way worthy of the market leader, with respect for the natural environment and ethics, taking care of clients' satisfaction and users' comfort. All that is achieved by Budimex thanks to professionalism and passion for construction, high efficiency of operation as well as partner relations with suppliers and subcontractors.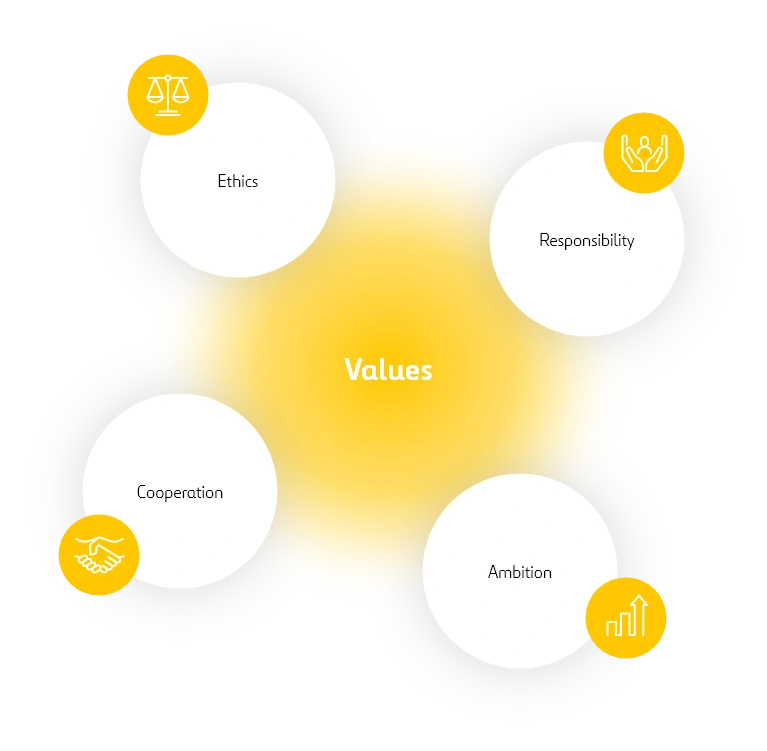 The overriding mission of the Budimex Group is to execute construction investments in line with sustainable development principles. The values adopted as the basis for conduct in the Budimex Group result from the assumptions of the CSR Strategy 2021-2023 of the Budimex Group and are consistent with the key ESG areas. Particular care in ethical conduct, care for health and safety, optimisation of environmental impact and ensuring customer satisfaction and quality of services delivered are achieved thanks to professionalism resulting from experience and passion for construction. Relations with business partners, subcontractors and suppliers are undeniably an important value for the Budimex Group.
Experience and diversity resulting from these relations continuously enrich the organisational culture of the Budimex Group.
The Management Board of Budimex SA undertakes actions aimed at strady growth of the company's value for all shareholders and determines development directions, although it has not formalized this in the form of a strategy document. In the perspective of the forthcoming financial year, the activities of the Budimex Group will be focused on increasing the margins of its order portfolio and obtaining new, profitable construction contracts also on foreign markets. In the long run, the Management Board of Budimex SA aims at the diversification of construction activities (e.g. increasing presence in railway or hydrotechnical market segments) as well as the development of investment activities and services related to road, railway, RES and general construction infrastructure (e.g. projects in the formula of Public-Private Partnership, infrastructure maintenance or municipal waste management).